Our Signature Sourdough Focaccia Recipe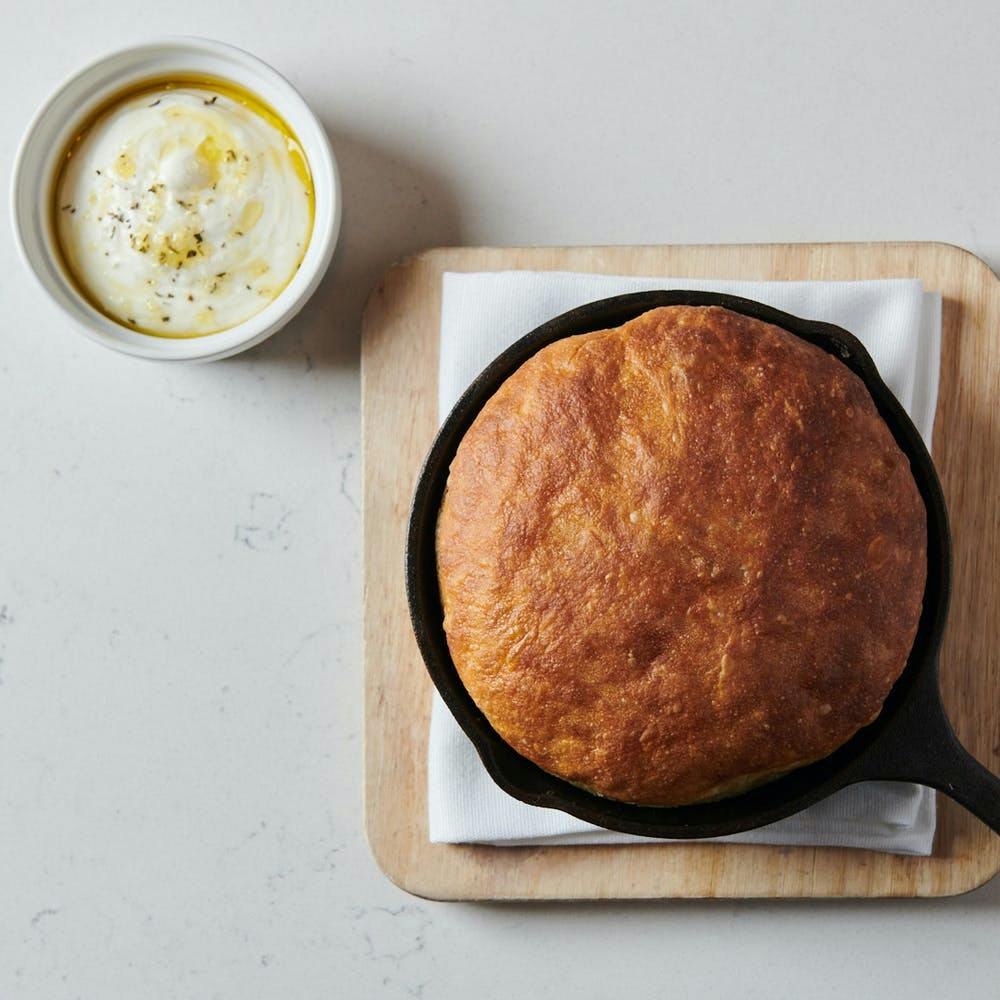 Chef Kevin was interviewed by Inside Hook after they tried this phenomenal bread service at American Brass. Enjoy the article and recipe below:
It's not difficult to understand why Google's 2020 Year in Search report found that six of the top 10 recipe searches were for bread, with interest peaking in March and April and sourdough coming in as the most-searched bread recipe.
To help get ahead of any other worldwide situations that might put us back in that same spot, we reached out to Kevin McGinley, the executive chef of American Brass in Long Island City, Queens, to get his recipe for the mother of all sourdoughs: sourdough focaccia bread.
A sourdough head since 2014 when he visited Tartine Bakery in San Francisco and read a book about baking on the flight home, McGinley made his sourdough focaccia for the owners of American Brass last summer as part of a tasting before the restaurant opened. Other than the dry-aged burger, the focaccia is the only dish from the tasting that is still on the menu at American Brass and is served as a stand-alone item at our restaurant in Long Island City, NY.
"I've worked at plenty of restaurants that did bread service, and it becomes kind of perfunctory because it becomes a thing that people expect and chefs or pastry chefs come to resent," McGinley tells InsideHook. "Bread service can be a nice touch and a great way to start out a meal, but oftentimes I think it gets watered down in the kitchen process and doesn't always get its due. That's why I wanted the focaccia to be an item on our menu, as opposed to a thing we just give away. I wanted to feature it and give people an opportunity to truly appreciate something they're paying for."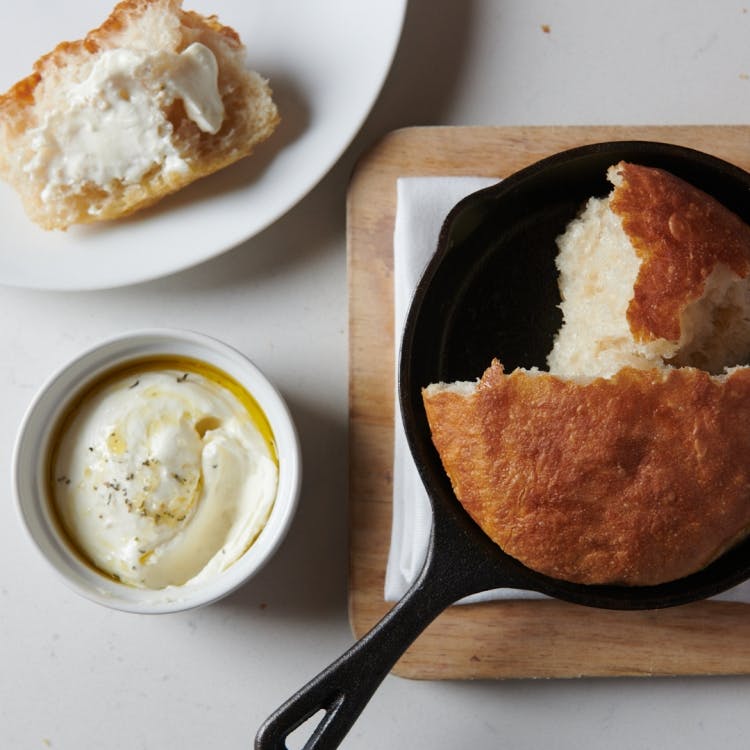 Sourdough Focaccia with whipped ricotta and rosemary sea salt. Ashley Sears
Fermented, proofed and baked in cast iron on a daily basis, McGinley's focaccia sourdough loaves are 100% natural, made with just four ingredients and typically sell out even though American Brass makes 30 per day.
"You can do focaccia in anything," he says "You can do it on a cookie tray. You can do it in a saute pan if you want. It really doesn't matter what vessel you put it in. I do think though that baking the bread in cast iron is pretty unique at least to us. I think it gives it a really nice, crisp texture on the outside and a beautiful sort of lightness to the inside. The juxtaposition of light and airy and crispy and crunchy is what makes bread satisfying to me."
Also unique to American Brass is serving focaccia sourdough with the combination of whipped ricotta and rosemary salt instead of just salted butter.
"I think ricotta and focaccia is a really classic combination. There's just something really satisfying about it," McGinley says. "Ricotta is not fermented or aged so it's a really fresh cheese. We season it with some salt and put it into a countertop mixer to whip some air into it so it gets nice and fluffy and homogenous. On top of that we add rosemary sea salt and some olive oil that's infused with fresh herbs like thyme, bay leaf and garlic. Our focaccia is a relatively lean and light dough and the ricotta adds sort of that rich creaminess. With the sea salt on top, I think it's just got this otherworldly texture and richness that just makes it really, really work."
See if it does with McGinley's recipe for focaccia sourdough below.
Ingredients
500g "00" flour
410g water
150g sourdough starter
12g salt
Directions
Combine the flour, water, starter and salt in a bowl and mix by hand until all of the flour is hydrated. About 5 minutes.
Cover bowl with a damp kitchen towel and set aside for about 25 minutes.
With slightly oiled hands, "fold" the dough by picking up the sides of the dough and turning it over itself 2-3 times. Set aside for another 25 minutes and repeat these steps 2-3 more times until the dough is smooth and gluten has formed.
Let ferment at room temperature for about 2-3 hours or until the dough has just about doubled in size.
Prepare four 6″ cast iron skillets by drizzling a generous amount of olive oil in each to coat all sides of the skillet.
Turn out dough onto a clean countertop and cut portions of dough with a bench scraper or dough knife to 230g portions. Form each into dough balls and place in skillets.
Pour olive oil over each dough ball and dimple with the tips of your fingers to spread the dough out to all sides of the skillets. Place skillets into a covered container to proof for about 2 hours at room temp until the dough has doubled in size.
Bake at 475′ f for 10-15 minutes or until dark brown. Let cool on wire racks.